Roll Off Dumpster Rental Service from Doctor Disposal
We are a family owned and operated roll-off dumpster and commercial front-load dumpster provider with over 32 years of waste hauling experience! We serve homeowners, businesses, contractors and more in Weymouth, Quincy, Brockton and surrounding areas. No matter what your needs are Doctor Disposal Inc. will custom fit you with the right dumpster!

We offer environmentally-friendly disposal solutions. We're a company that makes every effort to recycle whenever possible. Clean up your home, business or job site in an eco-friendly way with the help of Doctor Disposal.
Residential Dumpster Rental
10-yard to 40-yard rolloffs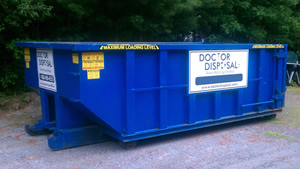 Our high-quality construction dumpsters and residential roll off dumpsters are delivered right to your site and come in sizes as large as 40 yards! Our dumpsters can accommodate household junk cleanouts, yard wastes, concrete, roofing debris, construction wastes, demolition debris, furniture, appliances and much more.
Front Load Dumpsters
2-yard to 10-yard containers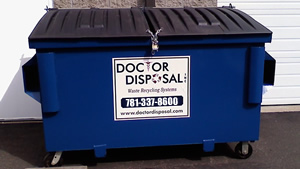 Boost the functionality of your waste removal with our custom front load containers that come in a variety of sizes and have their own locking mechanisms! For our commercial trash pickup we offer 2 yard - 10 yard front load containers, perfect for commercial businesses, retail stores, restaurants, apartment buildings and condos.
Affordable Dumpster Prices
Multiple Dumpster Sizes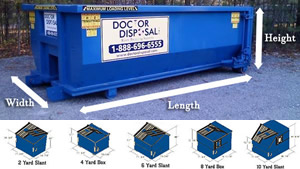 For residential or construction waste, we offer a wide range of rolloff container sizes from 10 yards to 40 yards.
For our commercial trash pickup we offer 2 yard - 10 yard front load containers. Doctor Disposal offers the best prices and customer service for dumpster rental in Weymouth MA.
The Doctor is in!
Call (781) 337-8600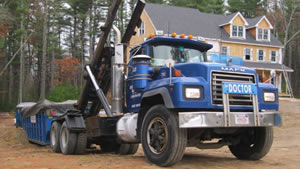 Get rid of the clutter and garbage in your life by making an appointment with Weymouth's own Doctor Disposal. Our waste solutions are environmentally friendly as we recycle as much of your debris as possible. If you need a temporary dumpster or weekly garbage service, we've got you covered!
Professional Dumpster Rental in Weymouth, MA
We cannot accept hazardous materials such as: Automotive products, batteries, CFL light bulbs, fertilizers, fuels, hazardous liquids and cleaners, lawn and garden products, paint, pesticides, chemicals, used oils, tires and more. Please call if you are unsure if your waste can be accepted. For disposal of these hazardous materials visit South Shore Recycling Coop. It is important that disposal of these materials is done correctly to prevent soil and groundwater contamination and to prevent endangering the health and safety of people and animals.
**Additional charges for mattresses, freon items, tires, tv's, computer monitors, humidifiers, microwave ovens, etc.